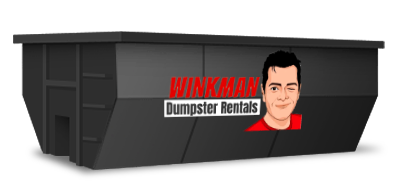 Size: 12'L x 7'W x 4'H
Days: 1 Day
Rent Time Extension: $75/day
Ton(s): 2 included
Extra Weight: $75ton
Description
Are you looking for a reliable, affordable dumpster rental solution in Riverside and San Bernardino County?
Look no further than Winkman Dumpster Rental! Our mission is to provide our clients top-notch customer service, clear communication, and reliable clean-out solutions. Whether you're a homeowner, contractor, or small business owner, we have the perfect 10 yard roll-off container to meet your needs. Our dumpsters are ideal for various projects, from construction and small demolition jobs to general waste removal. With a capacity of up to 10 cubic yards, our dumpsters are perfect for customers who need to dispose of large amounts of debris.
Our team is happy to guide what can and cannot be placed in our dumpsters to ensure compliance with local regulations. At Winkman Dumpster Rental, we understand that your time is valuable. That's why we offer flexible delivery and pickup schedules to fit your busy schedule. We pride ourselves on clear communication with our customers, and we're always available to answer any questions or concerns you may have about our services. One thing that sets us apart from our competitors is our commitment to exceptional customer service. Providing great service starts with hiring the right people, which is why we have a team of knowledgeable and friendly professionals dedicated to meeting your needs.From the moment you contact us to the final pickup of your dumpster, our team will be there every step of the way to ensure your satisfaction. Another thing that sets us apart is our dedication to affordability. We understand that waste removal can be expensive, so we strive to offer competitive pricing without sacrificing quality or reliability. Everyone should have access to quality dumpster rental solutions, regardless of their budget.
Why Choose Us? When you choose Winkman Dumpster Rental, you can rest easy knowing you're working with a company that values honesty, transparency, and integrity. These values are essential to building long-lasting relationships with our customers, and we're committed to upholding them in everything we do. So what are you waiting for? If you need a dumpster rental near you, contact us today to schedule your delivery. Our team is standing by to assist you with all your waste removal needs. With our commitment to exceptional service, affordability, and reliability, we're confident you'll be satisfied with your experience with Winkman Dumpster Rental.